Few people would argue against the fact that bringing a pet into your life is one of the biggest commitments you'll ever make. And, along with that commitment comes years of joy and happiness that few other life decisions will ever come close to matching. However, for some reason, there still remains a very controversial debate among pet parents between adoption and buying.
With literally millions of homeless pets living on the streets and in shelters across the country, it's hard to understand why there are breeders dedicated to bringing more lives into the equation. Let alone those who are breeding so-called purebred animals who are more likely to suffer from congenital defects and severe health complications. Hello French Bulldogs, looking at you guys!
That's why it's so important to highlight the stories of successful adoptions – adopting an animal is literally saving a life. It doesn't get much more rewarding than that. Unless, of course, you count this incredible roundup of before and after adoption photos of animals who desperately needed a forever home and couldn't be happier to finally have one.
Case in point: Ellie, the doggo who loves to hike and watch TV.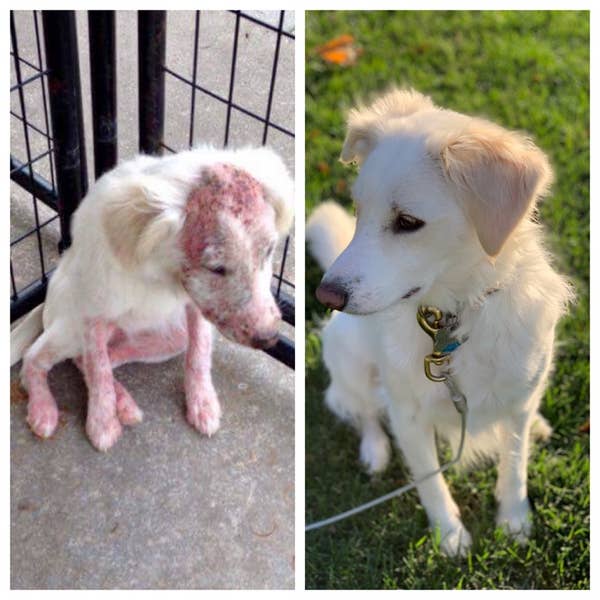 "This is my girl, Ellie. I adopted her at 9 months old and she was suffering from mange. She is now four years old with beautiful fur and loves going hiking with me or laying on the sofa and watching TV. She is my everything!" — sarak4b92b0a95
This kitty not only had a glow up but a total fluff up!
Because fluff is a measurement of happiness…I mean who doesn't love fluffy things, fluffy toys, or fluffy cats?!
This cutie glowed up into his best self, named Cooper!!!!!!!
That smile. is. everything!
Things are really looking up for Miss Ellie since being adopted!
I mean look at this lady! She's just beautiful and so, so, so happy!
Look at what just two months of love and affection can do!
When you adopt a pet, just the simply change of having a loving family can do so much for an animal's recovery.
Then there's Boni, who just loves sweaters!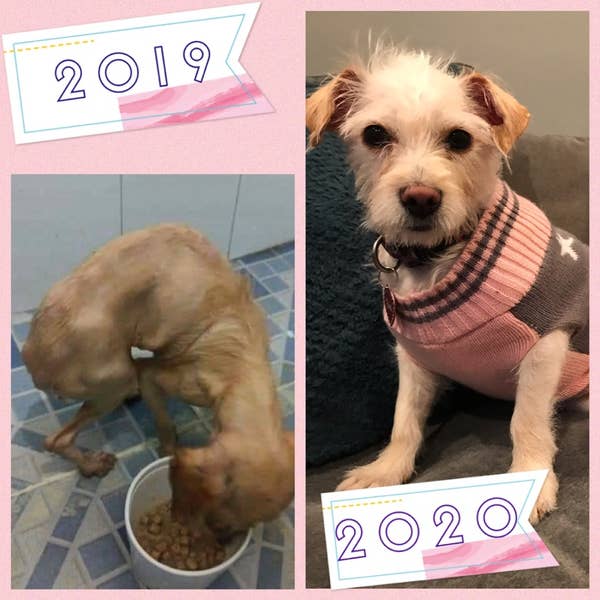 "I'm Boni and I'm originally from Mexico. I was abused and neglected but I was I was adopted by my foster family in Canada and have two furry brothers. I have a brain deformity and neurological issues but I never let that stop me! I make my family smile every day. I love to give back to other dogs who also had a rough start in life! Follow me on Instagram!" —sunshineanddogs
Thanks to adoption, Juno made a transcontinental move to be with her forever family!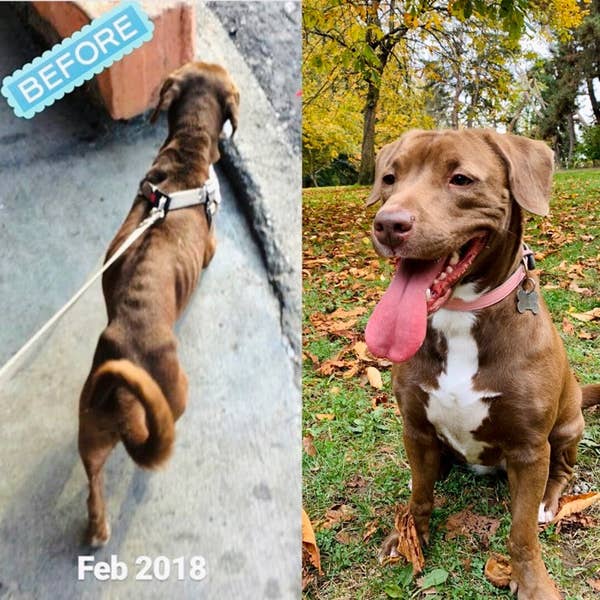 "This is Juno, she was a street dog living in Colombia. The left photo is from the day we rescued her (and her nine puppies!) and the right photo is her now living with us in Seattle." — elenicotsis
And Hazel proves that with love, anything is possible!
She was stuck in a metal trap for days but she's since fully recovered into the beautiful feline she is today. 💕